Toy drone attached to balloon cluster explodes in Israel near Gaza border
01/06/2019 . 7:51:28 AM UPDATED ON 01/06/2019 . 7:51:33 AM
The device, likely launched from the Hamas-run enclave, caused no casualties when it detonated
A cluster of several dozen balloons attached to an incendiary model drone exploded in an open field in southern Israel on Sunday while police sappers were on the scene.
An explosive device, presumably attached to the model aircraft, detonated while police investigated the suspicious object. The explosion did not cause any injuries or casualties, according to a statement from Israel Police.
Police urged members of the public to exercise extreme caution regarding the discovery of suspicious kites and balloons, which they warned could be rigged with explosive or flammable materials, and emphasized the need to explain the dangers of approaching such objects to children especially.
The launching of airborne devices such as kites and balloons affixed with flammable liquids or explosives has become a new phenomenon used by Gaza protesters beginning during the initial months of the so-called 'Great March of Return' protests that have been ongoing weekly since March 30.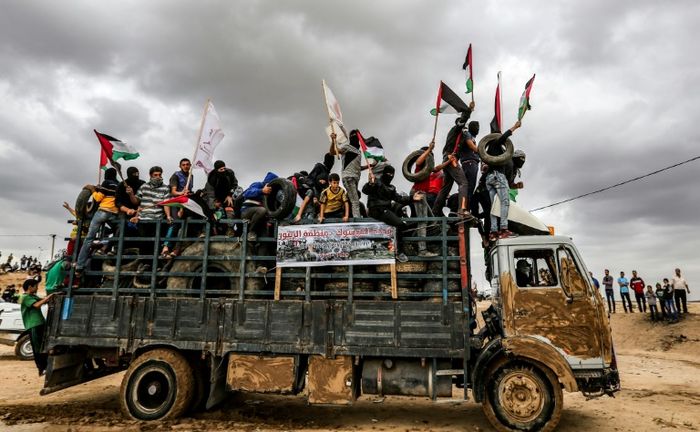 In November 2018, an unexploded incendiary balloon was located in an Israeli kindergarten yard near the Gaza border.
The devices have burned acres of fields adjacent to the border, costing Israel millions of dollars in damages and, in many cases, costing residents of the region their livelihoods.
In response, Israel has been hardened its response to the flaming devices, which authorities say have set ablaze more than 2,600 hectares (6,400 acres) of Israeli territory. This is not the first incident that has seen the balloons target kindergartens or playgrounds used by children.
Since the protests began on March 30, at least 239 Palestinians, including 50 members of Hamas, mostly by Israeli fire during border clashes but also by air and tank strikes.
Two Israeli soldiers have been killed over the same period.