Huge blaze burns out of control as crews also battling fires in Montana, Idaho, Hawaii and Texas
A wildfire in California grew to the largest the state has seen yet this year, as firefighting crews braced for thunderstorms and hot, windy conditions.
The McKinney Fire was burning out of control in northern California's Klamath national forest, near the Oregon border, with expected thunderstorms a big concern, said US Forest Service spokesperson Adrienne Freeman.
"The fuel beds are so dry and they can just erupt from that lightning," Freeman said. "These thunder cells come with gusty erratic winds that can blow fire in every direction."
Subcribe to The Jewish Link Eblast
The blaze exploded in size to reach more than 80 sq miles (207 sq km) by Sunday evening, just two days after erupting in a largely unpopulated area of Siskiyou county. At least 2,000 people were ordered to evacuate. The cause of the fire was under investigation.
The blaze torched trees along California Highway 96, and the scorched remains of a pickup truck sat in a lane of the highway. Thick smoke covered the area and flames burned through hillsides in sight of homes.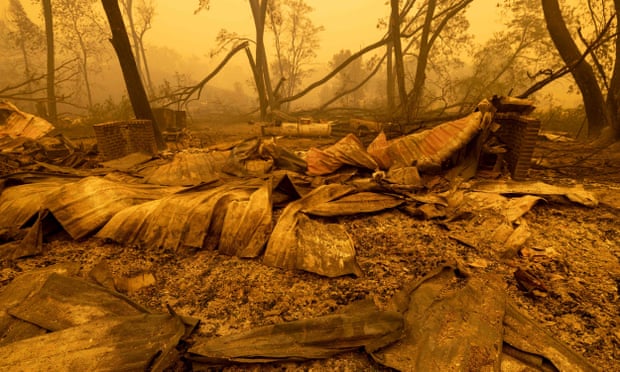 A second, smaller fire just to the west that was sparked by dry lightning Saturday threatened the tiny town of Seiad, Freeman said. About 400 structures were under threat from the two fires.
A third fire, which was on the south-west end of the McKinney blaze, prompted evacuation orders for about 500 homes Sunday, said Courtney Kreider, a spokesperson with the Siskiyou county sheriff's office. Crews had been on the scene since late Saturday but on Sunday morning the fire "became active and escaped its containment line".
The McKinney fire "remains 0% contained", the sheriff's office said in a Facebook post late on Sunday night.
Authorities have not confirmed the extent of the damage yet, saying assessments would begin when it was safe to reach the area.
As the threat from the McKinney fire grew, some residents chose to stay behind while others heeded orders to leave.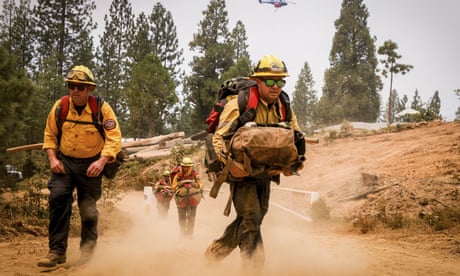 Larry Castle and his wife, Nancy, were among residents of the Yreka area under evacuation orders. They left Saturday with some of their prized possessions, including Larry's motorcycle, and took their dogs to stay with their daughter near Mount Shasta.
Larry Castle said he wasn't taking any chances after seeing the explosive growth of major fires in recent years.
"You look back at the Paradise fire and the Santa Rosa fire and you realize this stuff is very, very serious," he told the Sacramento Bee.
Meanwhile in northwest Montana, the Elmo wildfire had grown to more than 17 sq miles within a few miles of the town of Elmo. Crews were working along edges of the fire Sunday, and aircraft were expected to continue to make water and retardant drops to help slow the fire's advance, said Sara Rouse, a spokesperson with the interagency team assigned to the fire. High temperatures and erratic winds were expected, she said.
Roughly 200 miles to the south, Idaho residents remained under evacuation orders as the Moose fire in the Salmon-Challis national forest charred more than 75 sq miles in timbered land near the town of Salmon. It was 21% contained by Sunday morning. Officials said they expected fire growth in steep, rugged country on the fire's south side.
In Hawaii, fire crews and helicopters have been fighting flames Saturday evening on Maui near Paia Bay. The Maui county emergency management agency said a brush fire was 90% contained but a red flag warning was in effect for much of Sunday.
In north Texas, firefighters continued efforts to contain the two-week-old, 10½ sq mile Chalk Mountain fire. The crews report 83% containment of the fire that has destroyed 16 homes and damaged five others about 50 miles south-west of Fort Worth.
Back in California, a significant buildup of vegetation was fueling the McKinney fire, said Tom Stokesberry, a spokesperson with the US Forest Service for the region.
"It's a very dangerous fire, the geography there is steep and rugged, and this particular area hasn't burned in a while," he said.
"It's continuing to grow with erratic winds and thunderstorms in the area and we're in triple digit temperatures," said Caroline Quintanilla, a spokesperson at Klamath National Forest.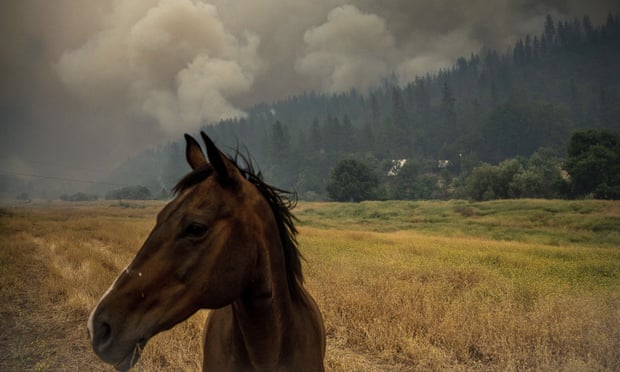 The California governor, Gavin Newsom, declared a state of emergency Saturday as the fire intensified. The proclamation allows him more flexibility to make emergency response and recovery effort decisions and access federal aid. It also allows "firefighting resources from other states to assist California crews in battling the fires", according to a statement from the governor's office.
Resources from all over California were being brought in to help fight the region's fires, said Stokesberry, the US Forest Service spokesperson.
McKinney's explosive growth forced crews to shift from trying to control the perimeter of the blaze to trying to protect homes and critical infrastructure like water tanks and power lines, and assist in evacuations in California's northernmost county of Siskiyou.
Deputies and law enforcement were knocking on doors in the county seat of Yreka and the town of Fort Jones to urge residents to get out and safely evacuate their livestock on to trailers. Automated calls were being sent to land phone lines as well because there were areas without cell phone service.
The Pacific Coast Trail Association urged hikers to get to the nearest town while the US Forest Service closed a 110-mile section of the trail from the Etna Summit to the Mt Ashland Campground in southern Oregon.
Oregon state representative Dacia Grayber, who is a firefighter, was camping with her husband, who is also in the fire service, near the California state line when gale-force winds awoke them just after midnight.
The sky was glowing with strikes of lightening in the clouds, while ash was blowing at them, though they were in Oregon, about 10 miles (about 16 km) away. Intense heat from the fire had sent up a massive pyrocumulonimbus cloud, which can produce its own weather system including winds and thunderstorms, Grayber said.
"These were some of the worst winds I've ever been in and we're used to big fires," she said. "I thought it was going to rip the roof top tent off of our truck. We got the heck out of there."
On their way out, they came across hikers on the Pacific Coast Trail fleeing to safety.
"The terrifying part for us was the wind velocity," she said. "It went from a fairly cool breezy night to hot, dry hurricane-force winds."
The fires come as scorching temperatures bake the Pacific north-west, the west remains parched in record drought, and severe storms sent flash floods surging across several states. In Kentucky, flash floods have claimed the lives of at least 25 people in what experts have called a 1-in-1,000 year rain event.
Source: The Guardian