New government set to be sworn in very late Thursday night; Netanyahu offers Foreign Ministry to Miri Regev
By GIL HOFFMAN   MAY 13, 2020 22:15
Israel will finally have a new government late Thursday night ending nearly 18 months of political chaos after Prime Minister Benjamin Netanyahu formally wrote President Reuven Rivlin and outgoing Knesset Speaker Benny Gantz on Wednesday night informing them that he had built a governing coalition.A special session of the Knesset plenum will start at 6pm on Thursday evening. There will be a vote for Netanyahu's confidant, outgoing Tourism Minister Yariv Levin, as the new Knesset speaker at 10pm, 48 hours after Gantz's resignation will take effect.Read More Related Articles
The Knesset will then be asked to vote confidence in the new government, and if that vote passes, the ministers will then be sworn in.
Coalition agreements with the parties that will be in the government, which had to be submitted to the Knesset 24 hours before the confidence were sent late Wednesday night.

Israel has been waiting for this for 18 months: It's a formal letter from @netanyahu saying he has formed a government.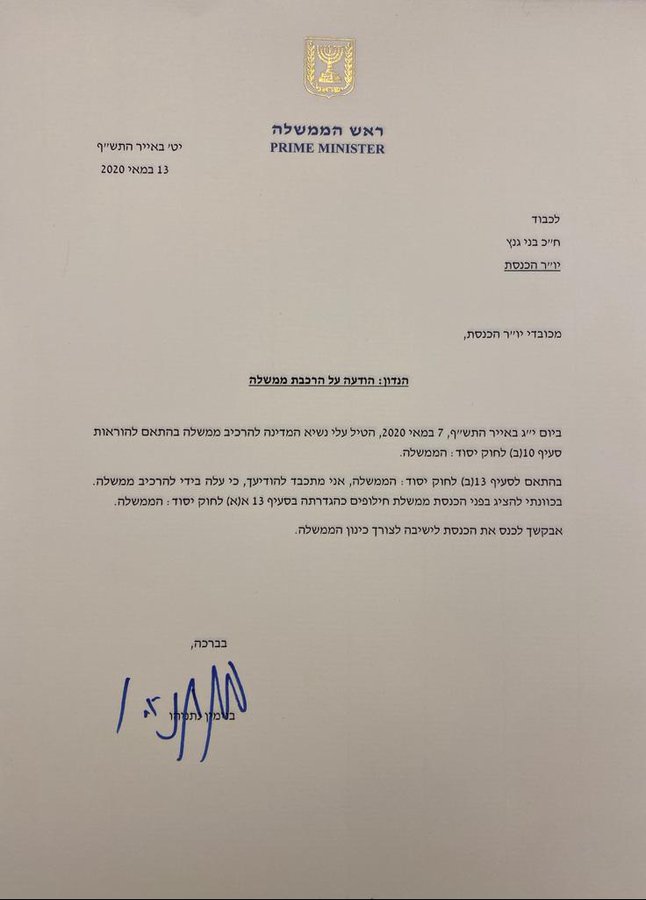 The parties that will be in the coalition are Likud, Blue and White, Shas, United Torah Judaism, Labor, Derech Eretz and Gesher.

Both Netanyahu and Gantz decided to wait with most of their ministerial appointments until Thursday, due in part to their meetings on Wednesday with US Secretary of State Mike Pompeo. But they continued to meet with candidates for various portfolios.
A source very close to Netanyahu confirmed reports that he offered the Foreign Ministry in the second half of the term to outgoing Culture and Sports Minister Miri Regev, despite her poor knowledge of English. The source said that Netanyahu would handle key diplomatic relations as vice prime minister under Gantz, so he needed someone completely loyal to him to be foreign minister.
A spokesman for outgoing Communications Minister David Amsalem denied reports that Netanyahu had asked him to be the next ambassador in London. Amsalem not only speaks English poorly, he has made repeated statements criticizing Diaspora Jews and non-Orthodox streams of Judaism.
Netanyahu will hold a marathon of meetings with candidates for ministerial posts. Sources close to Likud MK Gideon Sa'ar, who challenged Netanyahu for the Likud leadership, said he had not been invited to meet with the prime minister even though he was fifth on the Likud list.
Source: JPost