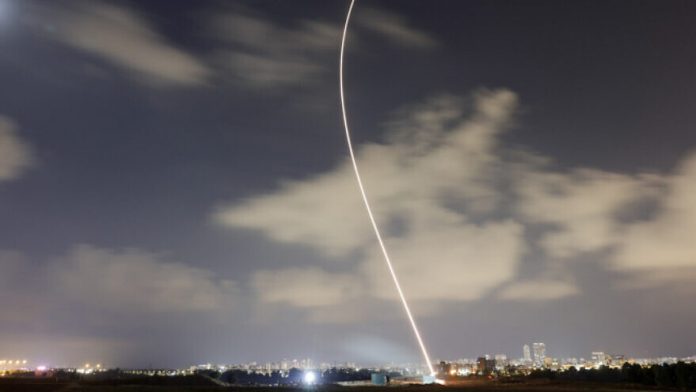 The IDF has struck over 140 PIJ assets in Gaza since the conflict erupted on Friday • Sirens blare in the Jerusalem area and in Beersheba as Jews mark Tisha B'av • Egypt reportedly working to forge a ceasefire that could go into effect as early as Sunday night.
(August 7, 2022 / JNS) Israel's "Operation Breaking Dawn" entered its third day on Sunday, as Palestinian Islamic Jihad in the Gaza Strip resumed firing rockets at the Jewish state. Sirens blared in the Jerusalem area and in the southern city of Beersheba on Sunday for the first time since the launch of the operation on Friday.
As of Sunday evening, terrorists from Gaza had fired nearly 1,000 projectiles towards the Jewish state since hostilities broke out, according to the IDF.
The Iron Dome missile defense system successfully intercepted 96 percent of the projectiles that were headed for populated regions. About 160 of the rockets fell short in Gaza, killing at least nine people, said the IDF.
Subcribe to The Jewish Link Eblast
The military added that it had struck over 140 assets belonging to PIJ in Gaza since launching its mission.
According to several Israeli media reports, Egypt is working to forge a ceasefire between the sides that could go into effect as early as Sunday night.
On Friday, the IDF killed senior PIJ commander Tayseer Jabari, who was responsible for numerous rocket attacks on the home front during "Operation Guardian of the Walls," an 11-day battle in May 2021 initiated by Hamas and PIJ against Israel. Jabari, 50, was PIJ's head of operations, according to the IDF.
Meanwhile, the military on Saturday night released footage showing a PIJ-fired rocket falling short in Gaza and causing an explosion in a residential area of Jabalya that reportedly killed numerous people, including children.
A spokeswoman for Lapid confirmed following the incident that there was no Israeli activity in the Gaza Strip in that area or at that time.
"Islamic Jihad is killing Palestinian children in Gaza. One in four rockets fired from Gaza towards Israel lands inside the Gaza Strip. Iran's proxies, including Islamic Jihad, have a long history of hiding behind civilians to target Israeli civilians," the spokeswoman continued. "The world should be outraged at this terrorist group targeting innocent Israelis and killing innocent Gazans."
The current round of hostilities comes amid heightened tensions in the holy city as Jews are marking the fast day of Tisha B'av, which commemorates the destruction of the two biblical temples.
On Sunday, Lapid met with opposition leader Benjamin Netanyahu to update him on security developments.