Storm expected to develop into a 'bomb cyclone' as it tracks up the East Coast
A powerful weekend nor'easter will impact millions of Americans from the mid-Atlantic into New England, bringing the threat of heavy snow, powerful winds and coastal flooding to the region starting Friday evening.
As the storm develops, it's expected to turn into a "bomb cyclone" as it heads up the East Coast and tracks close to New England.
Here's how this storm could affect the 35.5 million Americans under winter weather alerts.
Subcribe to The Jewish Link Eblast
Wind
As the nor'easter inches closer to southern New England on Saturday, some wind gusts could reach near-hurricane strength. The strongest gusts are expected closer to the coast, but the New York City tri-state area could see winds reach as high as 45 mph at times.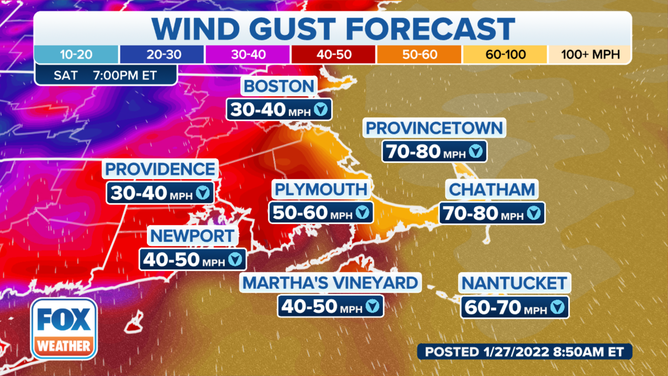 As we head into Saturday night, winds will get even stronger in Rhode Island and southeastern Massachusetts.
"The strongest winds are expected over Cape Cod, Martha's Vineyard and Nantucket, where gusts could reach 70 mph at times," Donegan said.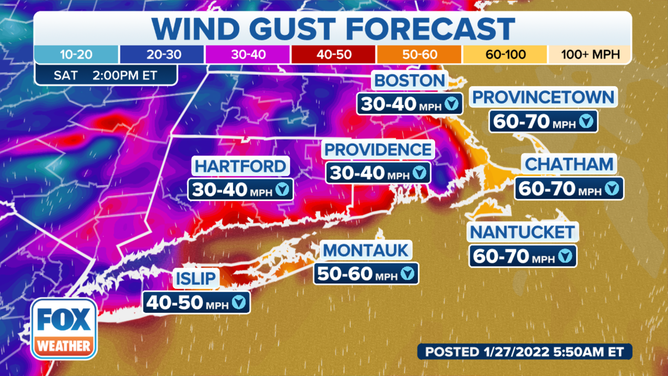 Parts of Connecticut and Long Island will see stronger gusts earlier on Saturday.
"Wind gusts to 60 mph are expected over a large area of eastern and southern New England, with 30- to 45-mph gusts possible down the coast into the mid-Atlantic states," Donegan said.
Here's what to have on hand if the power goes out during a winter storm
As a result of these powerful winds, widespread power outages are possible.
People living along the mid-Atlantic coast northward into New England should prepare for the possibility of power outages by picking up supplies like extra batteries, flashlights and plenty of blankets and other warm clothing.
Flooding
Coastal flooding is a real concern for people living along the East Coast into northern New England.
"A large portion of the Northeast coast could face a significant threat of coastal flooding, high surf and beach erosion," Donegan said. "Astronomical tides will already be running high this weekend as we approach a new moon, which will only make these threats worse."
There are increased coastal flooding concerns from New Jersey to Rhode Island during the Saturday morning high tide. In the evening, the threat for coastal flooding shifts to coastal areas from Massachusetts to Maine.
Travel
The storm is likely to significantly impact airports across the Northeast on Friday and Saturday.
On Friday, some delays are expected at airports in the mid-Atlantic, like Ronald Reagan Washington National Airport. As conditions worsen and the storm strengthens off the coast, delays and cancellations will get worse.
"We expect major flight delays and cancellations on Saturday at the major Northeast hubs, including Boston Logan International Airport, John F. Kennedy International Airport, Newark Liberty International Airport and Philadelphia International Airport," according to FOX Weather meteorologist Brian Donegan.
Anyone traveling on Friday or Saturday is advised to check with their airline directly for any delays or cancellations before heading to the airport.
JetBlue said it was waiving change and cancel fees for passengers traveling Friday and Saturday at several airports in the Northeast. Southwest Airlines said passengers traveling Friday or Saturday would have the option to rebook a flight within 14 days of the original travel date.
Delta Airlines and United Airlines were also waiving fees for people traveling this weekend.
Treacherous road conditions are also expected across the region, and driving is not advised once the storm begins.
7 things you need to know about winter driving
"Driving will become extremely dangerous, if not impossible, in eastern and southern New England on Saturday," Donegan said. "Heavy snow will overlap with 60-mph winds, potentially creating a blizzard with near-zero visibility in some areas."
Arctic blast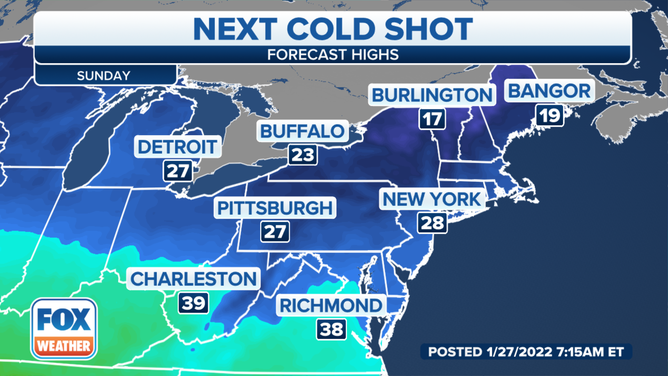 A blast of arctic air will move into the eastern half of the United States this weekend, adding to the misery for millions of people expected to be impacted by the powerful nor'easter.
Morning low temperatures in New England will be in the teens and 20s, making cleanup a bit more painful for people living in those areas.
And the cold also poses a threat for anyone on the roads after the storm.
"The cold temperatures mean any salt and brine solutions applied to roadways might not be as effective as usual, so slick travel conditions could linger into Monday morning, especially on colder side streets," Donegan said.
Source: Fox News